As I reported in July 2010, Italian Wikipedia contains libelous claims about Alejandro Peña Esclusa, who is a political prisoner in Hugo Chávez' Venezuela, a country that from now is a Soviet-style communist dictatorship. Yet, as late as today Italian Wikipedia blocks every attempt to remove the slander, even though they have been given proof that it is a lie.
The lie in question is that Mr. Peña Esclusa would be a member of an organization called Tradition, Family, and Property (TFP). Without citing any source for this claim, Wikipedia goes on to present a number of very serious allegations against TFP (not against Mr. Peña Esclusa). By doing this in the same paragraph they leave the non-expert reader with the impression that all of these things are the acts of Mr. Peña Esclusa, and that there is proof for it all.
On numerous occasions this lie has been pointed out to Wikipedia, in no uncertain terms as is evidenced on the talk page. Yet, the only result is that the one pointing out this lie has been blocked, thereby silencing the criticism and the inconvenient truth. The pattern has been repeated over and over.
The last attempt to remove the slander was made on New Years Eve. The paragraph in question was deleted with a reference to an explanation in the discussion page, in the form of a referenced quote from Alejandro Peña Esclusa's book in which he, himself, states that he has never been a member of TFP. However, the deletion was undone within 3 minutes by another user, without any explanation on the talk page.
The user deleting the page again deleted the libelous claim, and two minutes later the Wikipedia editor Vituzzu not only reinserted the paragraph without explanation, but also blocked the user from editing both the article, and also the discussion page. Vituzzu thereby ensured that the blocked user can't complain, or request that Wikipedia explains why they are helping a communist dictatorship incarcerate an innocent man, by helping them to spread their lies. For them to spread big lies is an integral part of their strategy to prevent Europeans from understanding the true nature of the narco-terrorist states led by Cuba.
While Wikipedia will claim that they have no editors, the fact that Vituzzu has the power to block dissenting opinions from being heard makes him a "Wikipedia dictator", and thus – in any reasonable interpretation of the word – an editor. It is irrelevant if and who pays him for the job he does in the service of the dictatorship. Wikipedia has given him the authority to act in their name by blocking other users, and consequently they are responsible for his acts.
Here are some screen shots that show what happened, saved just in case someone tries to destroy the evidence: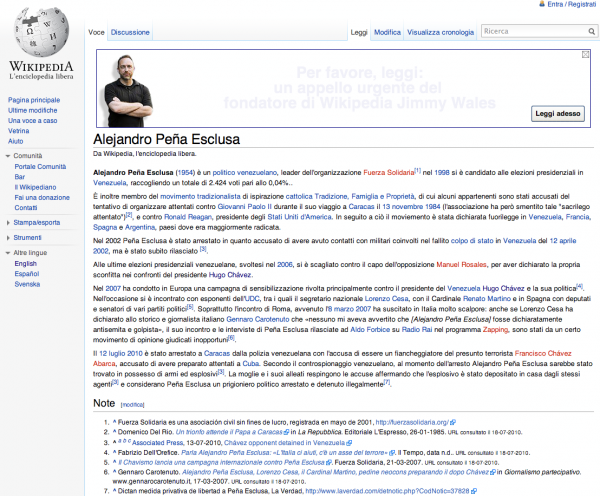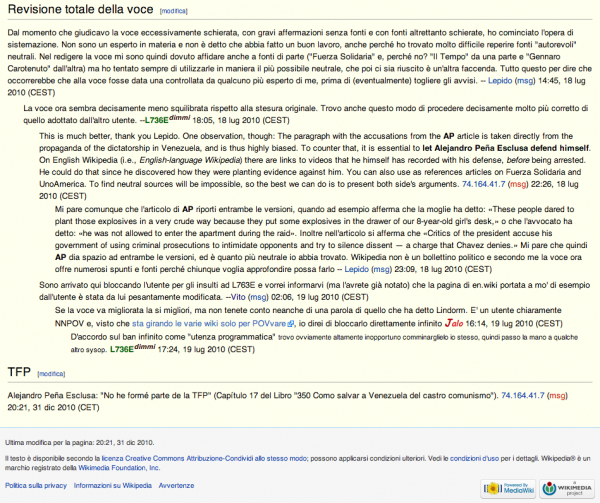 This muzzle method is brutal. It is worthy of a Fascist dictatorship, or, as in this case, a narco-Communist dictatorship. Who is Vituzzu? Where is he? He could be anywhere. He could sit in Caracas, Venezuela, or for that matter in Havana, Cuba, and do these things. (His page on Wikipedia claims he lives in New York, but the phone number he gives is fake, so one cannot assign any credibility to the claims either as to his name or his whereabouts.)
The problem this creates for law enforcement is self-evident. A political prisoner in country A (Venezuela) is hurt in country B (Italy) and as a consequence also in the rest of the world, by material on a server that may be in country C, edited by persons who may be in any country in the world. They could even be the staffers of Hugo Chávez' own ministry of propaganda, a powerful organization that also counts with the international satellite-TV network TeleSur, and which deploys all the methods and lies that communists have refined since the early Soviet Union.
What responsibility does Wikipedia have? You can log in (click Further in bottom right) and leave comments.