Here I will report new developments in Venezuela as I hear about them. If not stated, times are in Eastern Time (GMT -5; Venezuela is GMT -4.5). Read the earlier blog posts for the background.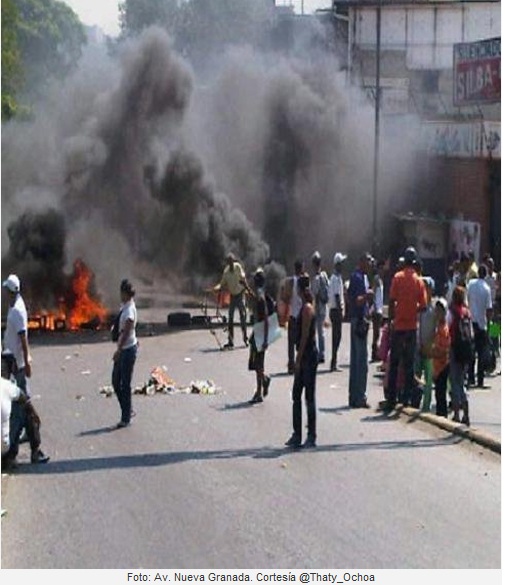 18:00 ET: The calm has returned to Caracas, after the riots on the Nueva Granada Avenue earlier today (photos above, below). From the farm El Peonio, it was reported 18:45 local time that the militaries were leaving.
At 17:35 ET, tweets speak of a helicopter overflying the finca El Peonio, and the gendarmes trying to enter wherever they can. This means that the Venezuelan government broke their own word in an agreement entered into at 09:00 today, see below. As general Angel Vivas wrote, one cannot negotiate with those people because they don't have any principles, no honor, no values.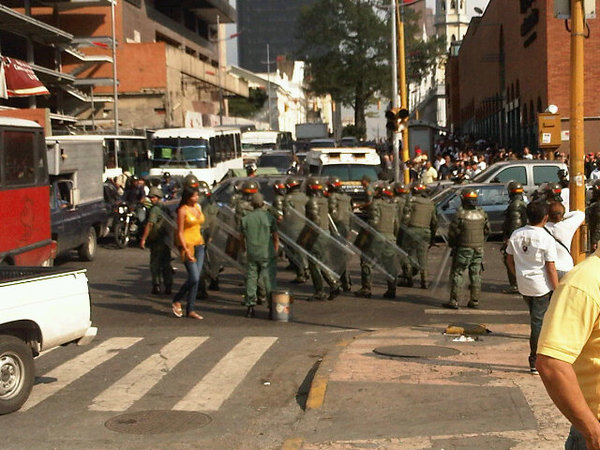 14:45 ET: Students have taken to the streets in Venezuela's capital Caracas, according to tweets. Chavez responds to the opposition with words of civil war: "rifle against rifle" (fusil contra fusil).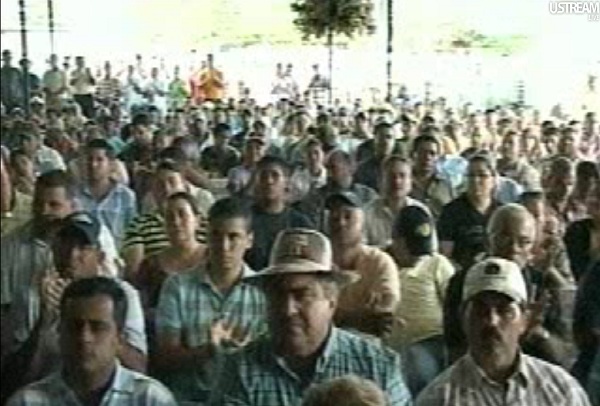 13:30 ET: Live video from an ongoing meeting of the farmers. The farmers demand that all confiscated farms are returned to their rightful owners. They also denounce that the resources that are now used to confiscate the properties, including many helicopters, should have been used to save people from the recent inundations, but they weren't.
12:00 ET: The newly created Zulian Front for the Defense of the Constitution (Frente Zuliano en Defensa de la Constitucion) has held a press conference. They say that the confiscation of the 47 farms has nothing to do with food production, but is only a way to undermine the social fabric in the state of Zulia, the social network of farmers that can be a counter-force. This, in my opinion, is precisely the reason why Stalin killed the farmers of Ukraine, which provoked the infamous starvation in 1933.
09:00 ET: The deal is, according to Globovision, that starting at 10:00 local time, the agricultural institute INTI will start to inspect that the farm is producing. The reason given by Chavez for the confiscation (what he erroneously calls "expropriation") was that the farms were not in production.
08:30 ET: New twitter handle to look for, #mollejero, a local word in Venezuela, originating from Zulia and the "guajiros", that means both 'fight' and some complicated mess. Pretty appropriate for this day, with military confiscation attempts of a huge dairy farm at 6 o'clock, with farmers meeting to plan actions at 8 o'clock, with an announcement of a front for democracy in the state capital of Maracaibo at 11 o'clock, and is if that is not enough, new heavy rains that have again made several bridges impassable. Un verdadero mollejero.
Globovicion, the last surviving regime-critical TV channel in Venezuela, has been in the farm since early in the morning. General Estrada and a colonel entered the farm to speak with the owner, Jesus "Chucho" Melean. Reportedly they negotiated that the military is shown around to see that it is in production. Personally, I see this as a way for the military to scout out the area to plan for actions. As general Angel Vivas wrote, one should not negotiate with communists; chances are production is not the real reason for the confiscation.
At 06:22 local time they called from the farm that army had arrived, and shortly after the following tweet came from congressman Juan Romero, "JuanBRomero": "Inicia la toma de la finca 2 El Peonio de Chcho Hernandez en #surdellago, 20 vehiculos oficiales intentan con personal armado ingresar" (The overtaking of the finca 2 El Peonio of Chcho Hernandez in #surdellago starts, 20 official vehicles with armed personnel try to enter)
Entries 2010-12-19:
22:40 General Angel Vivas tweets that the operation will start within hours, and that they have already set up roadblocks to prevent help or media from arriving to the finca.
At 22.20 the farm called for URGENT help and for media. Media tried to get there but were blocked. Critical events unfolding but little or no information is getting out. (Source TiaPanaYo)
Around 22:10 ET, more vehicles arrived and continued directly, tweeted TiaPanaYo. The photo above was taken of one of them.
Around 20:30, @TiaPanaYo tweeted "Me acaban de informar que 2 Jeeps mas 1 tanqueta estan llegando. Pero si van a El Peonio, deben pasar a 100 mts de mi casa. Saliendo!" (I was just informed that 2 jeeps and one armored personnel vehicle are arriving. But if they are going to El Peonio, they have to pass within 100 m from my house. They are leaving!" A few minutes later, General Angel Vivas (who has sought direct message contact with TiaPanaYo, I assume since she is on location and he cannot get there with his knowledge from Caracas) tweeted, "Recomiendo a los ciudadanos no se emocionen demasiado, todavía,… recuerden que el comunismo es mentiroso,cobarde y traidor ¡TRIUNFAREMOS!" (I recommend the citizens to not get too emotional yet… remember that communism is lying, coward, and treasonous. WE WILL WIN!)
At 18:15 or so, the following was tweeted by Jose Meza: "El frente Zulianos por la Constitución presentará mañana un documento a las 11:00 am en el Colegio de Abogados de Maracaibo", i.e., "The Zulian Front for the Constitution will present a document tomorrow at 11:00 AM in the Colegio de Abogados in Maracaibo [lawyer's association]".
Around 18:00 ET the following tweets were sent by "@josegremeza Jose Meza": "En El Peonío no hubo tiros ni palos. Sí, toque de tambores. Representantes del Inti o de la GN no han vuelto (vía @TiaPanaYo)", "Más de 100 personas de diferentes ámbitos se reunieron en Maracaibo para crear un frente de defensa de la Constitución", "En Maracaibo mañana a las 11:00 am se presentará oficialmente el frente de defensa de la Constitución #surdellago #Mollejero". In translation, "In the Peonío there were neither shots nor sticks. Yes, drums playing. Representatives of INTI [the agricultural department] or of the National Gendarmes have not returned", "More than 100 persons from different walks of life got together in Maracaibo to create a front for the defense of the Constitution", and "In Maracaibo at 11 AM tomorrow the front for the defense of the Constitution will be officially presented."
At 15:12 ET this tweet reply was written by "@AngieRod Angie Rodríguez" to the question what is going on in #surdellago: "@marialuisarios hay presencia militar y concentraciones pero ningún enfrentamiento" ("there is a military presence and gatherings [of people] but no clashes").
This blog post by Daniel at 15:00 explains, or at least highlights, why you don't find anything about this ongoing crisis if you Google news from Venezuela.
Tweet from josegremeza Jose Meza ca 14:03 ET: "Mañana asamblea de productores agropecuarios a las 8:00 am en Santa Bárbara para determinar acciones" ("Tomorrow meeting of farmers at 8 AM in Santa Barbara to decide on actions.")
Tweet from josegremeza Jose Meza ca 14:00 ET: "En Maracaibo se reúnen a esta hora representantes de diversos sectores para crear un frente de defensa democrático" ("In Maracaibo representatives of diverse sectors are gathering at this time to create a democratic front of defense").
Tweet from General Angel Vivas at 13:00 ca: "Solicito apoyo aéreo para trasladarme al sur del lago y unirme a quienes defienden la comida de Venezuela. Por tierra no me dejarían pasar." In translation: "I am asking for help with air transport to south of the lake to join those who defend the food of Venezuela. They will not allow me to pass by land."
Flyers are distributed today distributed calling for a general meeting Monday at 10:30 (10:00 ET) in Huasipungo.
Media Links: DN (Swedish)