On Valentines Day a group of Venezuelan students chained themselves over the street outside the Embassy of Cuba en Caracas, Venezuela, demanding that Cuba leaves Venezuela. Since January 10, when no new president was sworn in, Venezuela has lacked a head of state. Instead the civilian and military leadership have flown to Havana, Cuba, for meetings and to get instructions. Although they claim to receive instructions from Hugo Chávez, there are two big problems with this version.
First, there has been no sign of life from Hugo Chávez since his operation on December 11 last year. Not even a phone call. A friend of a friend to his family has told me that not even his own mother has been allowed to see him. For all thinking persons this means that he is dead.
Second, since January 10 he is no longer president of Venezuela anyway, even if he would have been alive. The constitution clearly says that if the president elect cannot be sworn in, then the president of the national assembly has to be sworn in as interim president, and new elections be called within 30 days. This has not been done.
Nobody was sworn in January 10. Instead the de facto regime, supporting itself on a patently bogus verdict from a Supreme Court whose justices were changed just some weeks earlier, is claiming that the ex-president can continue being president for a long time, and thus the ex vice-president can also continue being vice president. Thus, the ex vice-president is acting as vice president, not president; not head of state, not head of the armed forces. In fact, the Constitution only allows the president to be head of the armed forces, so they at present have no commander in chief.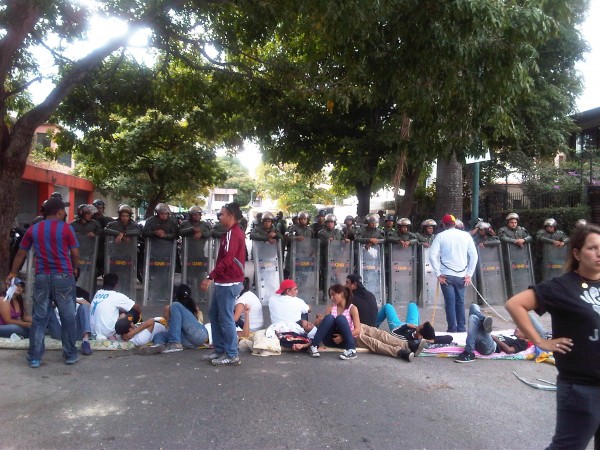 In this situation the unified students launched #OperaciónSoberanía, Operation Sovereignty. Backing up the action are all the resistance movements: Operación Libertad Venezuela, Sociedad Patriótica de Venezuela, Venezuela Soberana, and Junta Patriótica.
OLV is anonymous but has a Facebook page for communication and appears to have planned this action. SPV is clandestine, but general Angel Vivas was forced to reveal its existence the other week to avoid that another organization by the same name was created.
Venezuela Soberana is a group of mainly intellectuals, while the Junta Patríotica (junta means "board") was created by a group of politicians the other week as a reaction against the failure of the traditional opposition to stand up against the Cuban take-over of Venezuela. It was announced as "Sociedad Patriótica" but was forced to use a different name as mentioned. Its most prominent leader is Diego Arria, former governor, ambassador to the United Nations, and presidential candidate.
The action has grown today, at last report there were 23 students chained up. The media attention has been huge, not at least due to the fact that four reporters were beaten up by police immediately the action started, at the same time as 7 students were arrested. The media equipment was also destroyed to prevent the news from reaching the outside world. When the first wave of students had been taken into custody the police presence was decreased again, but then the second wave of attack came, and about 20 students managed to chain themselves to the street. The massive media attention that followed, together with no less than 10 lawyers from the different resistance groups, got the 7 released. They later returned, broke through the police cordons, and rejoined the others.
Today the regime has responded in desperation, releasing clearly doctored photos of a "recovering" Hugo Chávez. Nobody seems to be buying it; instead the poor and traditionally chavista neighborhoods are ridiculing it with their own Photoshopped pictures of Obama in a hospital bed in Cuba…