As proof I will submit the below image from a document in the possession of the nanny of Venezuela's foreign minister Elias Jaua, when she was arrested for arms trafficking in Brazil the other day. It's the plan for winning the parliamentary elections in 2015. The highlighted text reads "Marcar y neutralizar al enemigo (Derrota Permanente)", in translation, "Stalk and neutralize the enemy (Permanent Defeat)". Compare that with the tweets from one of the regime thug bands.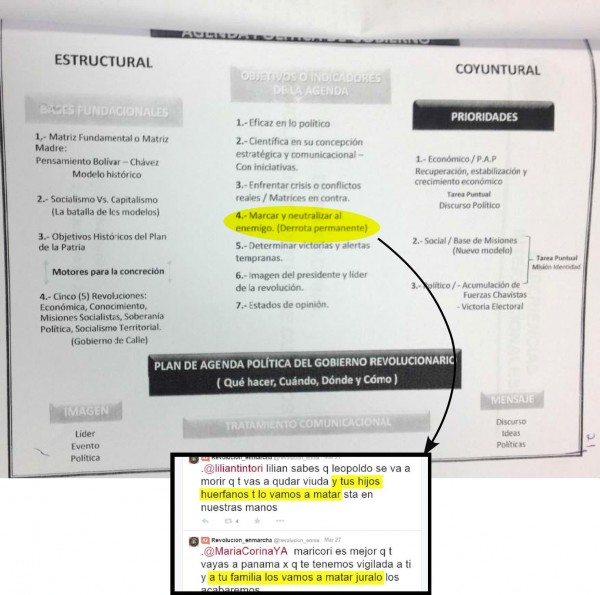 The tweets are death threats to two opposition leaders, former mayor Leopoldo López and congresswoman Maria Corina Machado. The first is to Leopoldo´s wife Lilian Tintori and reads: "Lilian you know that Leopoldo will die that you will become a widow and your children orphans, we will kill him from you, it's in our hands". The second to Maria Corina reads: "Maria Corina it's best that you go to Panama because we have you and your family followed and we will kill you, you bet on it, we will finish you".
There can be no doubt that the death threats are real, or that they are ordered from the very top of the government. This constitutes a clear-cut Crime Against Humanity.