Already January 31st I presented the evidence, but since nobody seems to have noticed, I'll present them again with a more direct headline. A video (see below) released by the "resistencia" itself, contains footage from outside the airport on July 5th, the day that Zelaya was allegedly trying to return by airplane. As I reported July 8th, Hugo Chavez had apparently planned for riots resulting in a martyr being created.
While the Zelaya-supporters accused the military of having shot a young man in the neck, my forensic analysis of the video tells a different story. Analyzing the spectral content of the sound of the shot, as well as the echoes in combination with the terrain and surrounding buildings (the images gave away the location), I was able to conclude that shots were fired in the field of view of the camera below.
The young man was killed very close to that place, but the exact location is unknown, since the rioters moved the body before the police could secure the crime scene. Furthermore, it is impossible to know if one of the shots fired in the video was the one that killed him. But this is not relevant.
Based on the evidence we now have, we can conclude that someone was carrying a gun, firing it among the rioters. The 19-year old victim was hit in his neck, i.e., from behind, while he faced the airfield. The soldiers on the airfield were not armed with live ammunition (see air photo below for location).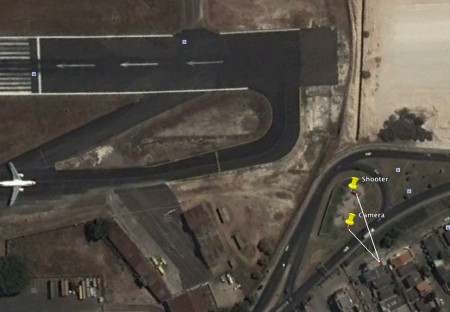 We also have the photo evidence of Hugo Chávez, which revealed that he planned this. Although we cannot say who pulled the trigger, we can deduce that Venezuela's president Hugo Chávez planned the murder. His stated purpose – on the whiteboard – was to create a martyr, and unfortunately many of the bloggers in the world fell for the trick.

Here is the propaganda video from which the above scene was taken (see this post for a comment on its other content):