In my previous post I showed technical evidence, based on acoustics, that places a shooter among the demonstrators near the place where the teenager was shot dead on July 5th, 2009, at Tegucigalpa Airport, Honduras. This is quite significant, since it was a pivotal event in the world media. It changed the focus in much of the world press from "Was it a military coup or not?" to "The military coupsters are shooting innocent unarmed civilian demonstrators!"
In my analysis, the technical evidence points to that the world press fell for a propaganda trick by Hugo Chávez. However, there is more.
Within one second of the gunshot from which I analyzed the echo in my last post, there was another shot. Unfortunately, the producer of the video, Cesar Silva, cut the scene a fraction of a second after that gun was fired. Nevertheless, we can analyze that part of the sound that is still present (below).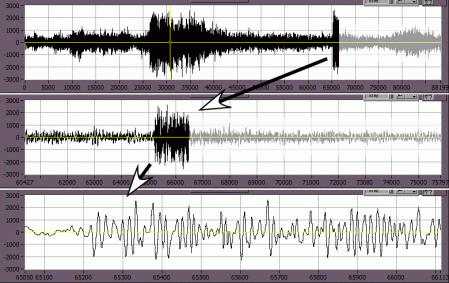 Note how suddenly the sound pressure level goes from background to full explosive sound. Compare it with the previous gun shot. Having determined that the distance to that was in the order of 30 m, we can deduce that the distance to this gun must have been significantly less. In other words, someone very close to the cameraman fired that gun. This opens the possibility that it was someone in his company.
Only seconds later Silva himself appears in the video (below), together with a group of people hiding behind the car. The location is some 10 to 20 m further south.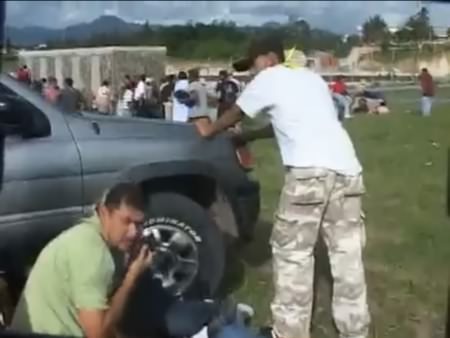 Still a few seconds later in the video, it is reported that the teenager was shot. Silva carried the victim, so the following scene is shot by someone else.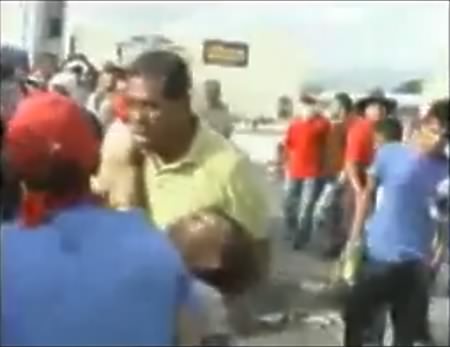 Obviously this raises questions as to what Silva saw of what happened. At the very least he is a potential witness.
Cesar Silva was Director of Communications in Zelaya's Ministry of Interior and Justice (interview). Basically, that puts him at the heart of the propaganda machinery for promoting the illegal so-called "opinion poll," that became Zelaya's downfall.