The flyers just arrived from "Sebastián Francisco de Miranda Rodríguez", an alias using the name of the man who led the liberation fight of Venezuela against Spain. The main event is of course the one in Caracas, on the anniversary of the overthrowing of the last dictator. There will be no speeches or marches, just a mass gathering in Caracas, between Chacaito station and Parque del Este, along Avenida Fransisco de Miranda. This is about 6 km due east of the presidential palace, Miraflores. A list of confirmed venues follows the posters!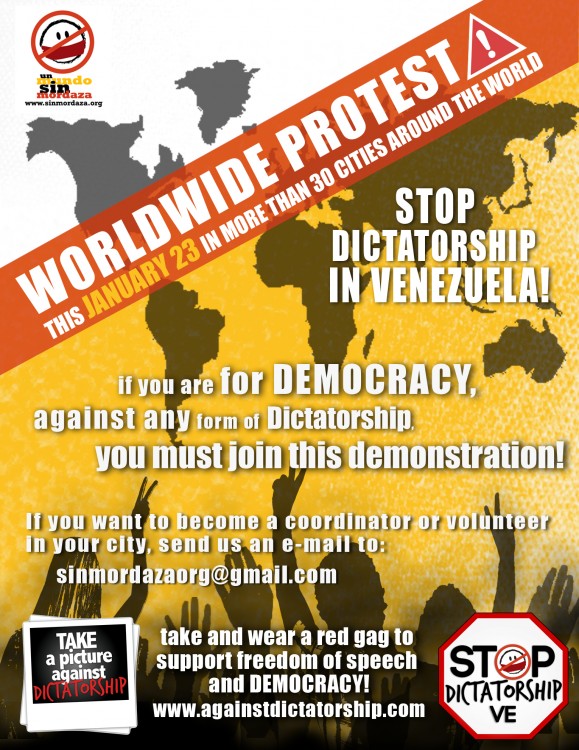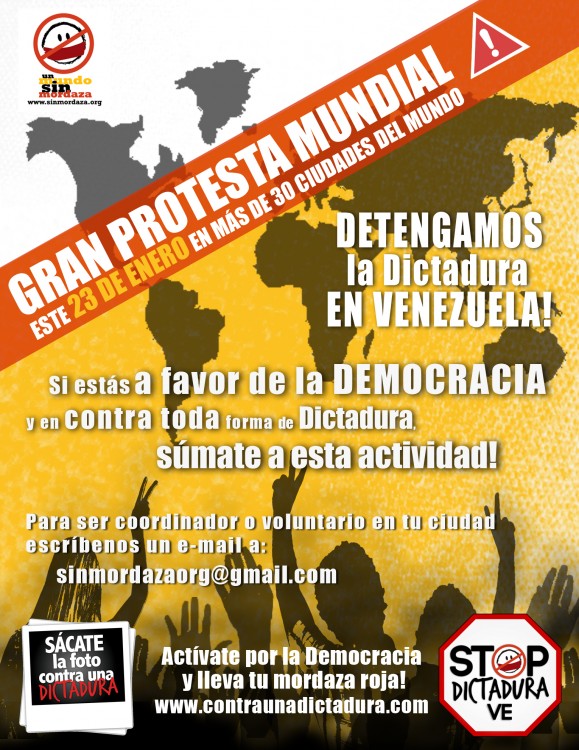 The following flyer outlines the nature of the dictatorship in Venezuela.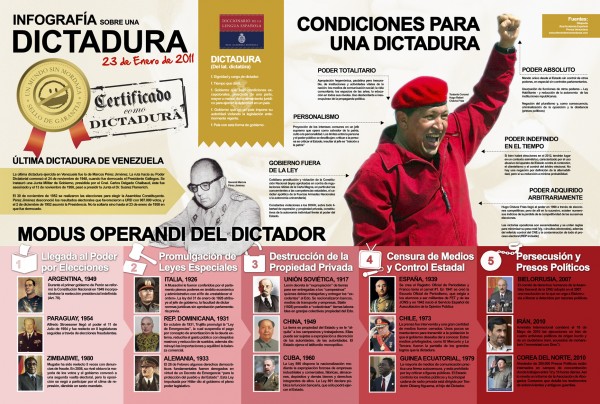 List of confirmed venues
Times in 24 hour format, local time zone.
VENEZUELA
CARACAS
LUGAR: Avenida Fransisco de Miranda, Chacaíto
HORA: 10:00
Supporting rallies around the world, by continent and country:
NORTH AMERICA
USA
BOSTON
PLACE: Copley Square, entre las calles Boylston y Dartmouth, Boston
TIME: 11:00
CHARLOTTE
PLACE: 600 S Tryon St, Charlotte, NC (in front of Charlotte Observer)
TIME: 14:00
DALLAS
PLACE: La Carreta Argentina 214-944-5300. 1115 N. Beckley Ave, Dallas, TX
TIME: 14:00
HOUSTON
PLACE: In front of La Informacion newspaper, at 6065 Hillcroft St, Houston, TX 77081
TIME: 10:00
LOS ANGELES
PLACE: Federal Building at 1100 Wilshire Boulevard, Los Angeles, CA 90024
TIME: 13:00
MIAMI
PLACE: El Arepazo 2 3900 NW 79th Ave. Doral, FL
TIME: 12:30
NEW YORK
PLACE: 6th Avenue and 59th Street, NY, NY, monument of Simon Bolivar and José Martí (south of Central Park; authorized by NYPD)
TIME: 12:00
SAN FRANCISCO
PLACE: Union Square, downtown San Francisco, CA
TIME: 12:00
WASHINGTON DC
PLACE: Triangle Park (Simon Bolivar Statue Park), Intersection between Virginia Avenue N.W. and 18th st N.W.
TIME: 14:00
CANADA
EDMONTON
PLACE: Corner of White Ave (82nd) and Gateway Blvd (103rd)
TIME: 13:00
TORONTO
PLACE: Speakers Corner (between Nathan Phillips Square and Osgood Hall, Downtown)
TIME: 13:00
LATIN AMERICA
ARGENTINA
BUENOS AIRES
LUGAR: Monumento de los Españoles
HORA: 13:30
BRAZIL
SAN PAULO
LUGAR: Monumento As Bandeiras, Sao Paulo (al frente del Parque Ibirapuera) Praça Armando Salles de Oliveira S/N, São Paulo
HORA: 12:00
CHILE
SANTIAGO
LUGAR: Av. Dag Hammarskjold 3177, Vitacura, Santiago
HORA: TBA
COLOMBIA
BOGOTA
LUGAR: Parque nacional, calle 39 con carrera 7ma, costado occidental, Bogotá
HORA: 11:30
ECUADOR
GUAYAQUIL
LUGAR: Av 9 de octubre y Pedro Carbo, Plaza de San Francisco, Guayaquil
HORA: 16:30
HONDURAS
TEGUCIGALPA
LUGAR: Paseo Los Próceres, Tegucigalpa
HORA: 15:00
MEXICO
MEXICO DF
LUGAR: Obelisco a Bolivar en frente al Hard Rock Cafe
HORA: 12:00
NICARAGUA
MANAGUA
LUGAR: Permiso negado "por seguridad"*
HORA: –
PANAMA
PANAMA
LUGAR: Cinta Costera en las escalinatas frente a la estatua de Balboa, Panama
HORA: 10:00
PUERTO RICO
SAN JUAN
LUGAR: Parque Munhoz rivera, frente a la estatua de "El Libertador"
HORA: 10:30
PERU
LIMA
LUGAR: Plaza San Martin
HORA: 16:00
EUROPE
AUSTRIA
VIENNA
PLACE: Die Pestsäule Am Graben, 1010 Wien
TIME: 14:30
FRANCE
PARIS
PLACE: Trocadéro
TIME: TBA
GERMANY
FRANKFURT
PLACE: In front of "Alte Oper" (Teatro de la Opera), Am Opern Platz, 60313 Frankfurt am Main
TIME: 12:00
ITALY
BOLOGNA
PLACE: Piazza Maggiore
TIME: 15:00
MILANO
PLACE: Piazza del Duomo de Milan
TIME: 14:00
TURIN
PLACE: Delante del Tempio valdese (Torino (TO), Corso Vittorio Emanuele II, 23
TIME: 11:45
NETHERLANDS
AMSTERDAM
PLACE: Plaza del Dam, Amsterdam
TIME: 13:00
SPAIN
BARCELONA
LUGAR: Plaza de la Catedral, 08002 Barcelona
HORA: 12:00
MADRID
LUGAR: Paseo Venezuela del Parque El Retiro de Madrid
HORA: 12:00
AUSTRALIA
PERTH
PLACE: Corner of Williams St and Hays St, Perth
TIME: 12:00
First published 2011-01-16 18:03, last updated 2011-01-21 20:30 ET.
*One can only speculate that Daniel Ortega fears that his regime would be in risk of being overthrown if he would allow this demonstration. What else could the alleged "security risk" be?