Operation Venezuela took place January 23, Sunday 10 AM, on the anniversary of the deposing of a dictator in Venezuela 1958. The main rally was in Caracas. There were support rallies against dictatorship in Venezuela on 4 continents. The events can be followed in the archived "live blog" below. There are both updates written in our "newsroom" and direct tweets from the ground in Venezuela.
Map of Caracas
To help with orientation this map was created in Google Maps. Miraflores is the presidential palace. The main gathering is at 10:00 at Chacaíto metro station and east of it. At 12:00 there will be speeches at Plaza Venezuela, just west of the metro station by that name. At 08:30 organizers in Caracas will meet the caravan that has traveled for a week from western Venezuela, at the La Bandera metro station, and from there move to Plaza Venezuela.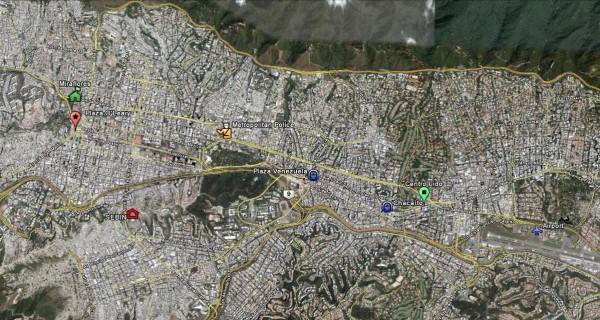 Blog page created 2011-01-21 12:15, last updated 2011-01-23 19:37 ET.