A Russian base in Venezuela? They have delivered Suhkoi-30 advanced fighter jets, battle tanks T-72, and have signed a deal to establish a 200 km2 banana plantation south of Lake Maracaibo. In December the government under Hugo Chávez confiscated 47 farms of about that surface area around Santa Barbara. Sunday January 30 they are reportedly planning to confiscate houses and lots in Santa Barbara itself, perhaps to get housing for the Russians. The gendarmes (GN) are assisting with these confiscations. They call it expropriations, but they don't pay compensation so it is really squatting, and there is no legal procedure involved. Just like Castro did on Cuba 50 years ago; in fact, Raúl Castro is to this day living as a squatter in a house that belongs to a friend of mine. All of this is of course blatant violations of the UN declaration of universal human rights. Many regular folks in Venezuela are determined to prevent this, to stand up to the military, and the live blog below is set up so they can post there tweets and photos in real time as events unfold. However, the real deal behind this is oil: In return for this banana contract the Russians got $1.6 billion worth of stocks in the Venezuela government-owned oil company PDVSA. Where are the oil reserves of Venezuela? Take a wild guess. Yes, much of it is around Lake Maracaibo.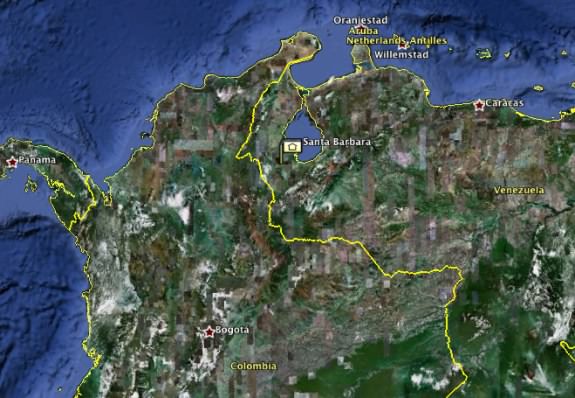 (The times are 30 minutes before Venezuelan time, 1 hour before ET.)
Photos of military operations in the area 2011-01-27 http://plixi.com/p/72828075 http://plixi.com/p/72822750
Update: Some breaking news regarding the fire in the INTI offices in Santa Barbara. The confiscations tomorrow include property belonging to a man who was arrested accused of having set this fire, so this news is very relevant. At the night of the fire some farmers, chavistas, were drinking in the INTI office with the head of the office. The farmers were expecting to get part of the land that had been confiscated, that's what Chavez had promised. But that evening they found out that the land would go to a banana deal with a Russian company, and so they got mad. They went out to block a road, but there was no traffic at that time of night so they returned, observed by quite a few persons. That's when they put fire to the office. When the firemen arrived the head of the office held them back, dressed in only underwear, pistol in hand. When he finally allowed them to extinguish the fire, when all the documents had burned (except his address book), they found a woman locked up in the bathroom. Since then about a dozen persons have been arrested, who all have one thing in common: They are in opposition to Chavez. Wait, they have two things in common. Neither one was there that night.
Footnote about the oil reserves. Swedish "moderate" (i.e. right-wing) newspaper SvD writes that "Venezuela has the world's largest oil reserve" but news that seeps out, pardon the pun, from Venezuela and Argentina suggests that there may be nothing more than politics behind those figures ("Do you remember the 'mega-reservoir' of oil that Enarsa found in Venezuela?").