Update May 21, 2010, 15:23 – A German-Danish revolutionary-romantic, Johannes Wilm, has made a documentary about this attack, called La Joven Revolución Hondureña (The Young Honduran Revolution). The footage follows the organizers before, during, and after the operation. We can see in the video several of the persons involved in destroying the fast food restaurant. There are two student organizations involved, FUR and FRU (also known as FRUM it seems). The students had committed to show up with 150 persons, and an organization of workers with another 150. The video shows how they blocked the main road past the university, a 4 lane road, with burning tires, and how they planned to run into the university and change shirts to disappear when the police showed up. The video does not seem to show how the car below was set on fire, but in a split second a person in red shirt is seen carrying a big bat, around that time and place.
Original post August 6, 2009, 00:16 – During Wednesday a mob created a roadblock outside UNAH, Universidad Nacional Autonoma de Honduras. A group calling itself F.R.U., Frente de Reforma Universitaria (Front for University Reform) has claimed responsibility. According to the police they broke windows and burned a car. They did not let independent journalists photograph or videotape them, but called them "golpistas" (coup-makers) and broke their cameras. The police dispersed the mob with water cannons and tear gas, under an intense bombardment of stones.
According to F.R.U., though, it was students who were demonstrating peacefully, just to be chased away into the university campus. Once there the rector came out, arms in the air, to make peace but beaten by the police, it is claimed. The burning car is blamed on a tear gas grenade.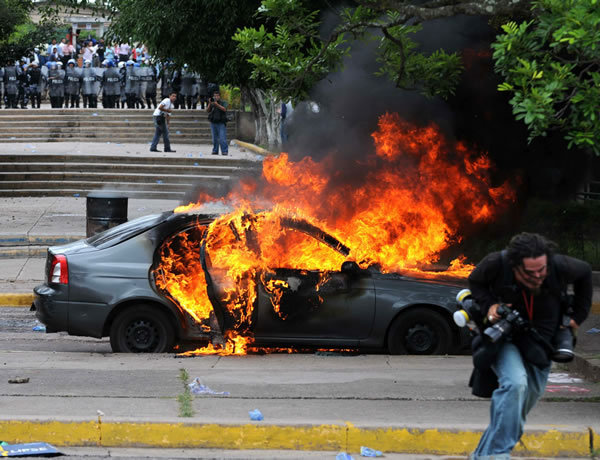 A closer examination of F.R.U., whose logotype leads the thoughts to Maoism and North Korea, shows that the website has had only 8935 visitors, that there are only a few posts on the discussion list (all read only a dozen times and none having got any comments), and that all of them are written by the same person, who is anonymous and hidden behind a gas mask. There is nothing that suggests a political platform, or any physical persons behind the alleged organization. There is, however, a link to TeleSUR's webcast, the propaganda channel of Chávez.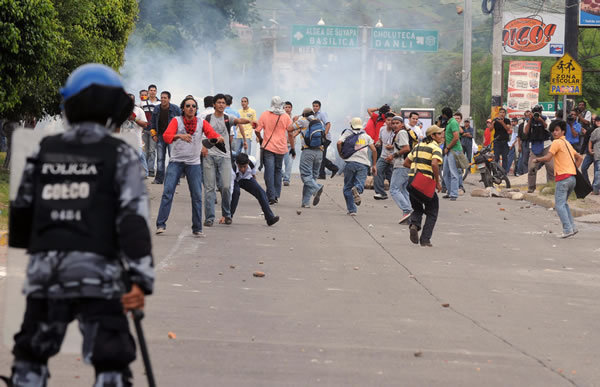 Given that the protesters also look to old to be students, and as if they have arrived from outside, the conclusion can only be one: It was a brownshirt operation, the usual suspects that Chávez hires, in collusion with TeleSUR, the satellite TV channel of Hugo Chávez based in Venezuela.
Luckily most media in the world seem to have started to understand that there is something fishy about the reporting by TeleSUR, so very few have picked up on this story. An exception is Al Jazeera.