Last Friday, the Organization for American States (OAS) voted to hold their meeting behind closed doors, and then they took the ongoing crisis in Venezuela off the table. They needed two thirds majority to do this, which they barely got, so the votes of each country mattered. Among the 22 votes counted in favor of a private meeting were 8 from kingdoms that have Queen Elizabeth II as their head of state, while one of her kingdoms abstained. If those 9 had voted for transparency, the vote would have been 20 to 13 AGAINST closing the doors; the meeting would have discussed Venezuela, the whole world would have been shown the atrocities there being committed, and most certainly the OAS would have expressed outrage.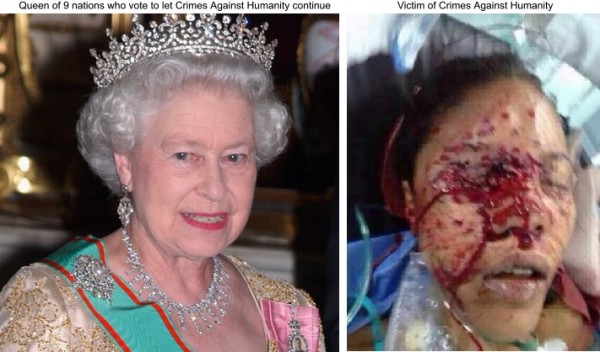 Why does the OAS vote matter so much? My contacts in the Swedish foreign department have for years told me that "until the OAS acts, neither Sweden nor the European Union will act." They respect the OAS as the supreme body for supervising the state of democracy in the Americas. Last Friday the OAS voted to turn a blind eye to Venezuela, and immediately the Cuban puppet regime in Caracas deployed all of the Cuban soldiers there present to suppress the uprising in a most bloody and cruel way. Just in the first 48 hours after the vote, 5 unarmed civilians, including a pregnant woman working as sign language interpreter on TV news, were gunned down by either the military or the regime's thugs. Many more were injured, and thousands were attacked in their homes with gunshots, shotgun shots, and tear gas grenades shot through their windows.
Elizabeth II is the queen over nine American kingdoms who are blocking the discussion in OAS:
Kingdom	                          Prime Minister        Population
Jamaica	                          Portia Simpson-Millor	 2,711,476
Bahamas	                          Perry Christie	   351,461
Belize	                          Dean Barrow	           349,728
Barbados	                  Freundel Stuart	   285,000
Saint Lucia	                  Kenny Anthony	           180,000
Saint Vincent and the Grenadines  Ralph Gonsalves          109,000
Grenada	                          Keith Mitchell	   103,328
Antigua and Barbado               Baldwin Spencer	    86,295
Saint Kitts and Nevis             Denzil Douglas	    54,000
With the exception of Jamaica they are all tiny. Barbados abstained, but in the face of Crimes Against Humanity, inaction is complicity.
All of these kingdoms, except Barbados, are receiving very favorable financing from Venezuela, but only Jamaica has been transparent about how the money is being used. Ex-president Manuel Zelaya of Honduras said in private, when he was trying to get his country to accept the same deal with Venezuela, that this loan with 1% interest over 25 years, and we are talking about hundreds of millions of dollars, "will not have to be paid back". Zelaya took the money and spent it as he seemed fit, figuring that if and when time came to repay it the one on the hook would not be him personally but Honduras as a nation. Why would we expect that the other members of PetroCaribe got a different deal? Their vote in OAS shows that they have been bought. Look at the video when their ambassadors are voting: They are turning their heads down and voting with SHAME.
In all fairness, Elizabeth II is also the queen of Canada, and Canada voted in favor of transparency. It is a pity that her reputation will be tarnished by the actions of these apparently corrupt kingdoms, who are supporting a vile dictatorship, and not just that: They are covering for a war of aggression, because it is Cuba that is controlling Venezuela, it is Cuba who calls the shots (quite literally). And as if that wasn't bad enough, they are covering for War Crimes, since the Cuban soldiers are fighting in Venezuelan military uniforms (of the army and of the national guard). So to sum up:
Elizabeth II is the queen over nine kingdoms that are covering for crimes against humanity, crime against peace, and war crimes.
Some will object that she doesn't have the power to do anything about it. That is an unacceptable position in the face of the worst crimes known to man. If I were in her position, I would rather abdicate as queen over those nine kingdoms, than have their betrayal of the human race destroy my good reputation from my other kingdoms. To do nothing would be a sign of cowardice, and I don't believe Elizabeth II is a coward.