A video taken from USAmerican helicopters in modern warfare in Baghdad 2007 was made available on YouTube a couple of days ago. For some reason they have classified it as somehow dangerous – even though it is just a kind of military home video. Not at all any fake violence, just the reality. If you ever wondered what really is going on in these wars, here's your chance to find out.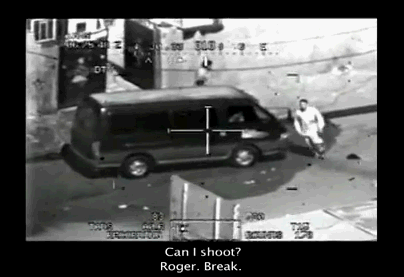 Click the photo to watch the video (you need to log in or create an account; they apparently don't want anonymous persons to see this). Be advised that the first part has no talk or music, it sounds like noise. But keep watching until the video comes, if you dare. It is very disturbing to see how they enjoy killing. Although not surprising. War has always done that to people, just read the Iliad. There is a reason why we cannot accept war as a political tool, and why those who violated International Law must be prosecuted, especially the commander in chief.
Link to the Collateral Murder website.
Update 2010-04-06: The UK paper Morning Star writes today that the brother of the slain Reuters photographer Namir Noor-Eldeen, claims that he was out documenting the violations of the USAmericans against the Iraqi people. This raises the possibility that they were set up, targeted on purpose. Especially considering how it has been documented by WikiLeaks that the US military is an enemy of freedom of information.
Update 2010-07-07: The US military has now announced charges against Private First Class Bradley E. Manning for leaking this video. No charges have to my knowledge been announced against those who killed the people on the ground for sports.